There's something different about this year's Geneva Motor Show: The "booth babes" are almost all gone.
For decades, automakers have paid glamorous and often scantily clad female models to appear at major auto shows and pose for photos next to their new cars.
But the practice is quickly being abandoned in the era of #MeToo, with carmakers now choosing other ways to attract a crowd at motor shows.
ABT, a company that sells custom cars and parts, employed so-called booth babes at the 2016 Geneva Motor Show. This year, it went with a coffee bar.
Andreas Hempfling, a spokesperson for ABT, said it wanted to "have a more communicative atmosphere at the booth" and create an area where "visitors, the press and ABT staff can meet and talk with each other."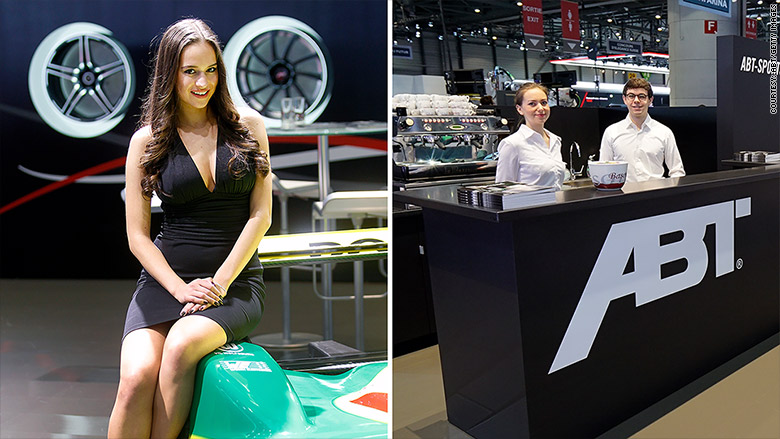 The ABT booth in 2016, and this year.
Major automakers including BMW (BMWYY), Nissan (NSANF), Toyota (TM) and Kia told CNN they were not using models at this year's event.
Gerald Kahlke, head of communications at Lamborghini, said it had been nearly two years since the Italian sports car maker had used models at auto shows.
"It seemed outdated to us," he said.
Volkswagen Group (VLKAF) also said it would not use models in Geneva. But an exhibit from one of its brands -- Skoda -- featured women in cocktail dresses accompanied by a man in a chic outfit.
Skoda did not respond to a request for comment.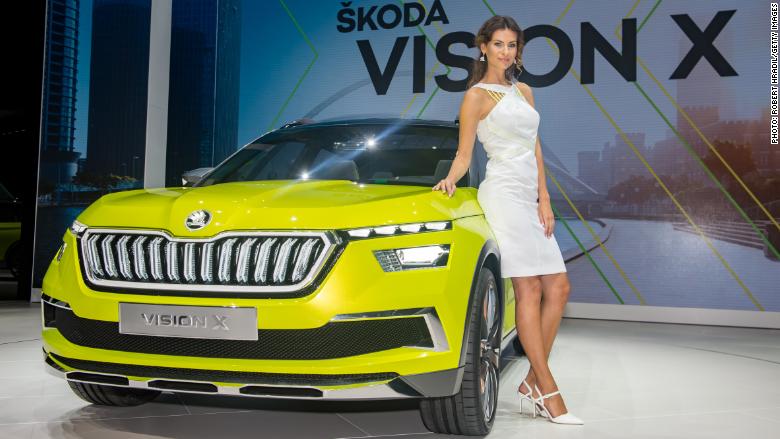 The Skoda exhibit at the 2018 Geneva Motor Show.
It's a change that is happening around the automotive industry. Formula One has announced it will stop using "grid girls" in 2018, for example.
"The way cars used to be promoted was that they will get you the interest of beautiful women ... the phrase was 'sex sells,'" said Paul Gordon, managing director of the digital marketing company Autotorq.
He said that marketing has become much more sophisticated, and advertising strategies tend to focus on the features of a car rather than aspirational imagery.
"It's so outdated now," Gordon said of female models. "It could be detrimental to your sales."
Related: You can't legally drive these million dollar cars
Many automakers now employ "professional product specialists" to work their exhibits. Tasked with answering questions about the cars and brand, they dress modestly and many of them are men.
Nissan said that all of its specialists are "knowledgeable about the vehicles at the show and product lineup in the specific market." Kia said it does not require its hosts to wear what "may be termed revealing outfits."
There are some regions where using models remains in vogue -- especially Asia.
Toyota, which owns Lexus, said that it would not use models to promote the luxury brand in Europe. But it said it had different policies for different regions.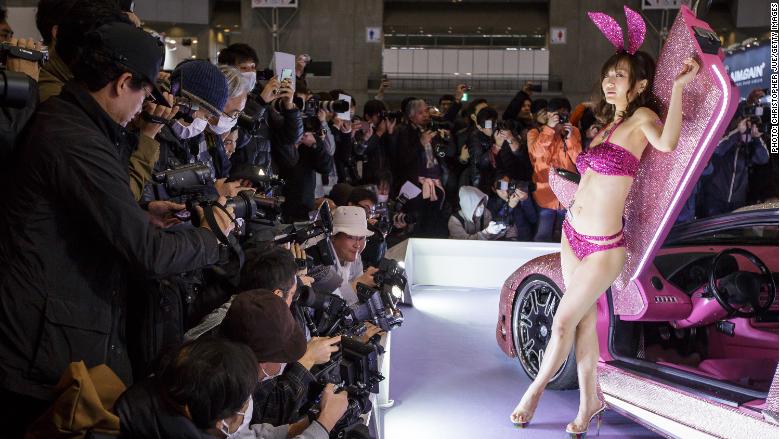 The Tokyo auto salon in 2017.
Gordon said that while recent campaigns in Hollywood may have had an impact on the way car makers want to present themselves, the change in the market is more fundamental.
"There's just a lot more recognition of women as important car buyers and important consumers," he said. "Women are key decision makers when it comes to buying cars and the companies want to appeal to them too."
Related: The unpaid work that always falls to women
The founder of Snapshot Staffing, an agency that provides models for events including auto shows, said that bad publicity had caused companies to think twice before hiring models.
"This is a direct result of more public awareness [of] bad working environments," said Benjamin Glean.
Glean said that his employees were shown pictures of the outfits they would be wearing at events, and could decide not to participate.
-- CNN's Peter Valdes-Dapena contributed reporting.
本文來源:http://money.cnn.com/2018/03/09/news/geneva-motor-show-models/index.html